Document Examination Unit
Experts from Document Examination Unit are tasked with identification of persons basing upon handwriting, identification of signatures and counterfeiters as well as determination of authenticity of public documents and examination of destroyed and illegible documents.
Another domain of expert work includes identification of typewriters, determination of authenticity of typewritten texts and types of typewriters. The Unit is also responsible for maintaining Anonymous Documents Collection helpful in case to case linking and profiling of criminal offenders.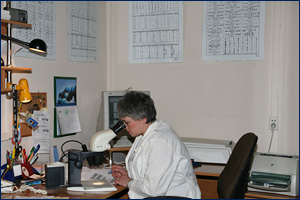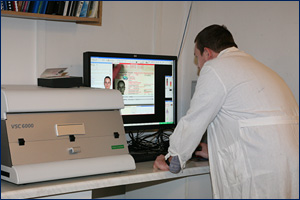 The expert team carry out determination of document authenticity, detection of illegible writing on e.g. on destroyed documents and detection of indented writing. Examiners identify the way a specific document was generated (printing technique, copying machines, computer printers, fax machines, stamps etc.). Physical and chemical examinations are conducted in relation to the substrate as well as the analysis of covering agents (inks) with use of optical (non-destructive), physical and chemical methods or determination of age of documents.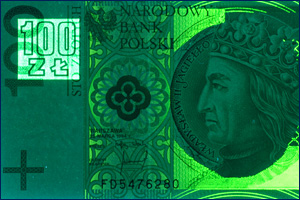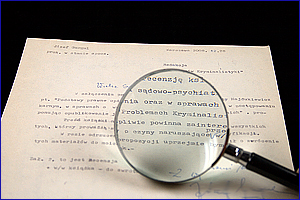 The Unit is also responsible for providing opinions in relation to new documents being introduced and designing anti-forgery security devices in state documents, such as passports, identity cards, visas etc. Catalogues with specimens of Polish and foreign documents, banknotes and interesting forgery cases are maintained as well.
For analytical purposes, experts utilize state-of-the-art instrumentation, such as Video Spectral Comparator (VSC), Raman spectrometer, device for examination of indented writing or multi-task (including 3D) microscopes.